Standardize and Simplify Cable Entries
CAPE's multi-cable transit modules' (MCTs) patent-pending designs and snap-lock technology provide on-site flexibility to add or remove layers easily and adapt to various cable and pipe diameters. Simplify and standardize your cable entries while upping your protection against rodents, fire/smoke, blasts, vibration and water, dust and gas ingress.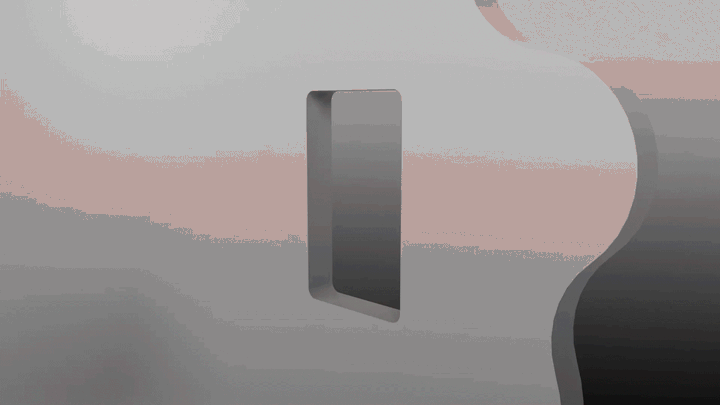 An Industrial "Window Frame"
---
Designed for global certification, our industrial "window frame" is complete with adaptable modules, retention plates and a mechanical compression wedge that easily opens and closes to pass cables and pipes through wall and floor structures, creating a firestop and environmental barrier.
CAPE's MCTs are:
Pre-drilled, no welding or field modifications required
Installation-ready, with integrated gasket to seal between the surface and frame
Lightweight, simplifies installation and handling costs
Industry-standard sized, speeds design, procurement and installations
Patent and certification pending
Eliminate long-lead engineering design. Save time and money. Standardize with a one-and-done multi-cable and pipe entry solution that simplifies design and specification, plus speeds installation.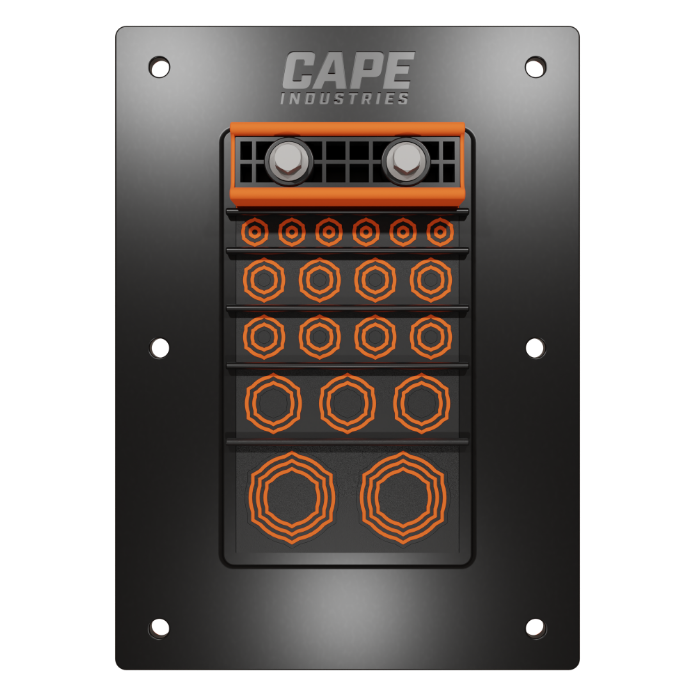 Revolutionary Features and Benefits to Installers
1. Module blocks attach to retention plates with Snap-LockTM design (patent-pending)
Simplifies and speeds horizontal (floor/deck) installations by preventing modules from falling; provides superior cable retention
2. Geometrically designed removable Snap-LockTM layers in each module size (patent-pending)
Simplifies correct sizing to cable and pipe diameters; layers are easily and accurately replaced if too many removed
3. One-and-done, integrated gasket on frame
Provides assurance of a superior seal between the CAPE MCT frame and the mounting surface (concrete, metal, sheetrock and more)
Inherently non-corrosive for direct replacement to stainless steel and metals; provides superior heat dissipation, cable retention and superior sealing in extreme temperatures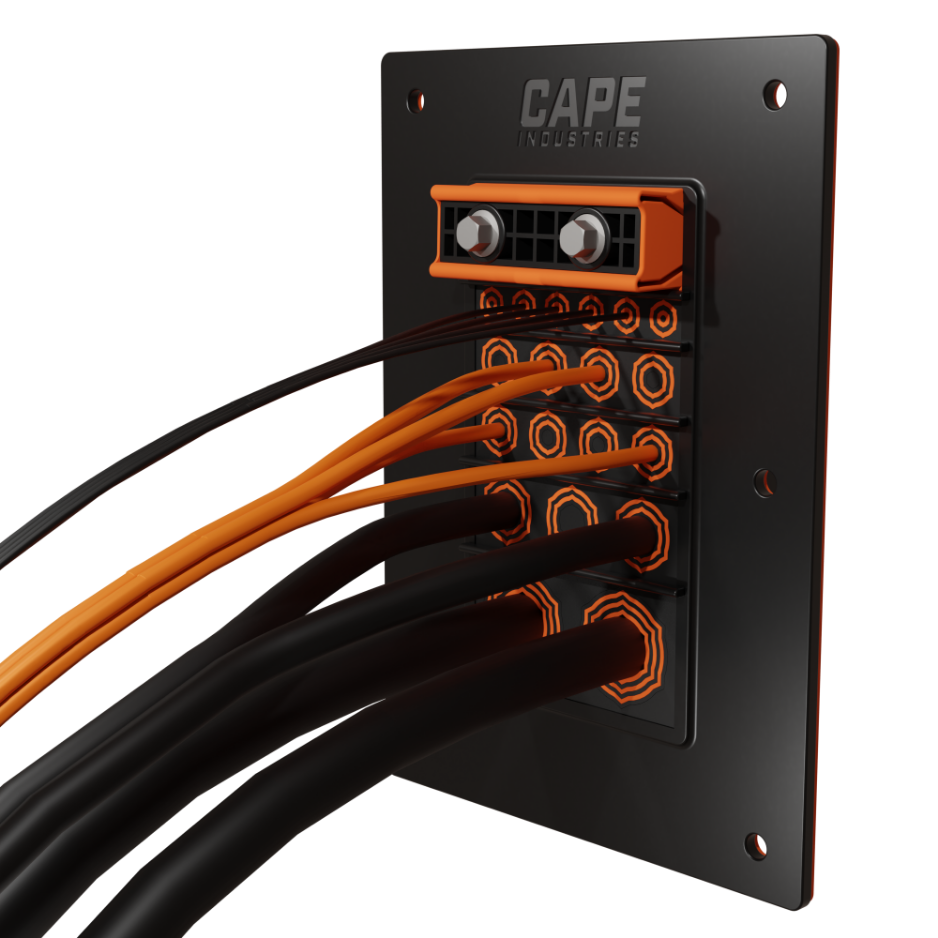 Non-Metal Multi-Cable Transit (MCTs) for the World's Toughest Environments
---
High-performance material replaces stainless steel and metal frames. Our advanced polymer, non-corrosive materials are for use in the most harsh and hazardous applications to protect people, equipment and your operations.
Use Anywhere Multiple Cables or Pipes Pass Through Walls, Floors, Bulkheads or Decks
Standardized with only four adaptable module sizes for cables ranging from .0125" to 2".
No-weld frame with integrated gasket has many installation options:
Steel bulkheads (walls) and decks (floors)
Insulated and non-insulated sandwich panels and e-house construction
Electrical cabinets
Masonry, concrete and cinder block construction
CAPE delivers with snap-lock technology that makes sizing for various cable/pipe diameters easy, and the single material frame is suitable and cost-efficient for corrosive and non-corrosive applications.
"Power, automation, control, data and communication cable are the lifelines of our industrial and high-tech culture. We have to be smart about protecting them."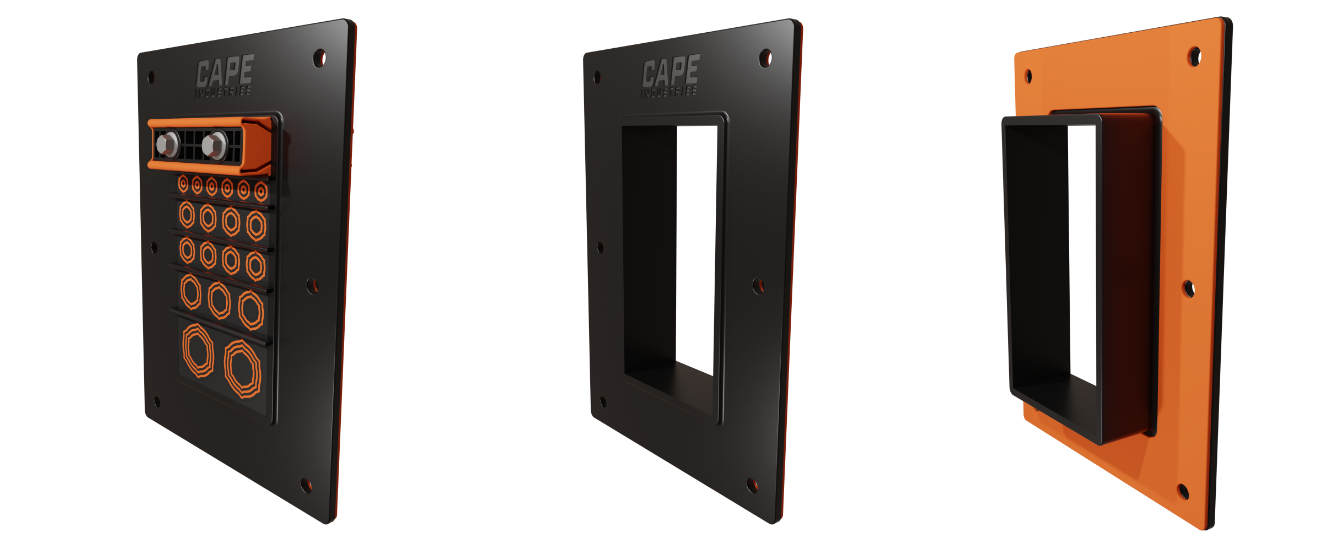 -60C to +80C
Corrosion resistant
Fire, chemical, hydrocarbon, impact and UV resistant
Superior cable retention
Vibration dampening
Easy to install, maintain and add future cables
Simple bolt-on installation with integrated no-leak gasket